Services
Precision CNC Machining
Turning,Milling, Mill-Turn Centers
90K & 60K PSI Waterjet Services
Utilize the best CAD and CAM software available
Metal Fabrication - Carbon, Stainless
Prototypes, Fixtures, Assemblies, Production Capacity
Springfield, MO CNC Machining and Waterjet Services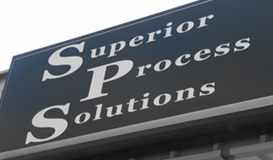 Welcome to Superior Process Solutions, the dependable provider of a variety of precision CNC machining and waterjet services in Springfield, Missouri. Over the better part of a decade, we have established a prominent base of loyal customers that have became accustomed to our efficient metal fabrication methods.
Superior Process Solutions was originally established as a small machine shop that focused in stainless steel process equipment and custom sanitary fabrication. Since then, we have evolved and answered the call of the industry by acquiring a number of effective CNC mills and CNC lathes as well as Horizontal production band saws and a large waterjet system. Superior Process Solutions is working towards becoming ISO compliant and registered.
Competent and Friendly Machine Parts Supplier
For Any Size Customer
First and foremost, everyone at Superior Process Solutions would like to thank you for your interest in our machine shop and waterjet services, whether you're one of our many loyal customers or you just happen to be browsing the market.
At Superior Process Solutions, one of our missions is to maintain our adamant focus and drive towards achieving a high-standard in the industry of CNC machining and waterjet services. Aside from supporting our customers with only the best quality products, we are coupling this with the finest and most accessible customer service in the industry's market. Our business' history has led us to be more than confident when it comes to standing behind our machine parts and custom machining, but we also make a sincere effort towards providing an approachable atmosphere for our customers. We want you to know that your desires are in our best interest.
By offering support with stainless steel process fabrication, carbon steel fabrication, waterjet services, and complete precision CNC machining with unmatched customer service, we hope to become the supplier for all of your machine shop needs. We are always looking for great opportunities and a chance to build more customer relations.
For more information on the variety of CNC machining or waterjet services and products we offer, contact us soon so we can help you out.

Connect With Us: